Exhibited at the Fiberworks 2005
The Present
 

This Navajo-Style piece was woven by Gloria Galasso in the "Two Grey Hills" style. It received 1st Prize at the 2003 Kay County Fair. The yarn used in this piece is from Brown Sheep Company and is sometimes used by Navajo Weavers. Gloria no longer uses this yarn, preferring instead, Navajo-Churro wool yarns which she either spins and dyes herself or purchases from Liesel Orend or Leslie Jackson
 
 

"Through a child's eyes" was exhibited at the juried show, Fiberworks 2005. Fiberworks is the premier, juried show for fiber arts in Oklahoma.
"Mosaic" Triangle-Loom Shawl

This shawl placed Best in Show at the 2003 Kay County Fair. Designed and woven by Patricia Paterson, it includes yarn hand-spun by Gloria Galasso.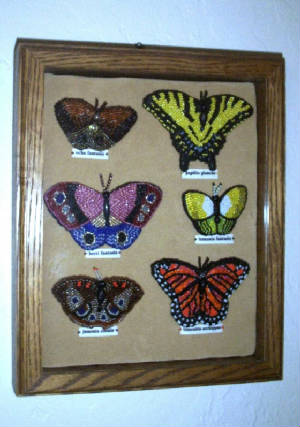 "Butterfly Collection" beaded by Nora Sekine and First Prize winner at the 2002 Kay County Free Fair.
SOLD!