Established in 2003, our goal is to provide you, our customer, with a unique piece of wearable art or wearable art accessories. We also teach lessons in weaving, dyeing, spinning, crochet, knitting and needle-felting.
We provide yarns and spinning/felting fibers, as well as supplies and equipment for all the activities we teach: from dyeing, spinning, and weaving, to crochet, knitting and needlefelting.
Our weavers, spinners, beaders, knitters and crocheters strive to produce the very finest quality items We do heirloom quality works which you will cherish for years or give with confidence to your family and friends.
About the Artists
Patricia Paterson works her woven magic on the triangle loom, as well as in crochet and knitting. She has won many awards for her work, including a "Best In Show" at the 2003 Kay County Free Fair. as well as awards at subsequent events, including exhibiting a juried selection at the Fiberworks 2005 in Oklahoma City.
Nora Moses-Sekine is a multi-media artist. Her beautiful beadwork is on display at Tres Hermanas in the form of bracelets, thread cutter necklaces, and art pieces. She teaches art and history at the local alternative high school, and is an award winning beader and designer.
Gloria Galasso spins and dyes much of the yarn that Patricia uses in her art work. Gloria weaves in the Navajo tradition, spins, dyes and needle-felts, and is also a multiple award winner at both the local Kay County Free Fair, and at the Tulsa State Fair. She had two pieces accepted for exhibit at the Fiberworks 2005 Show in Oklahoma City.
Never do anything for just one reason! Tres Hermanas Wool Works gets its name from two different sources. Although no longer involved in the ownership and day-to-day management of a flock of Navajo-Churros, the first three Navajo-Churros we helped purchase were sisters. The main reason for the name, however, is that the three of us involved in the business are the "daughters" of Arliss Moses. (Two of us are his real daughters, and the third might as well be!) Anyway, he introduces us all that way and we are proud to claim him as our "Dad!"
Learn about Ponca City, Oklahoma, a jewel on the prairie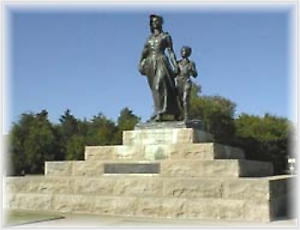 Dedicated on April 22, 1930, this 17 ft tall bronze statue by Bryant Baker is on the National Register of Historic Places. It stands on a limestone pyramid which makes the total monument over 30 feet high. It was donated to the people of Oklahoma by famed oilman and governor E. W. Marland, to honor the spirit of the women pioneers.